Big 4 consulting firms are the largest consulting firm in the world. These firms provide an extensive range of professional services including auditing, taxation services, management consulting, assurance, and legal advisory. The information gathered is based on the company's own websites, and the information included history, revenue, vision, and values, the services they provide. The Big 4 consulting firms in the world are: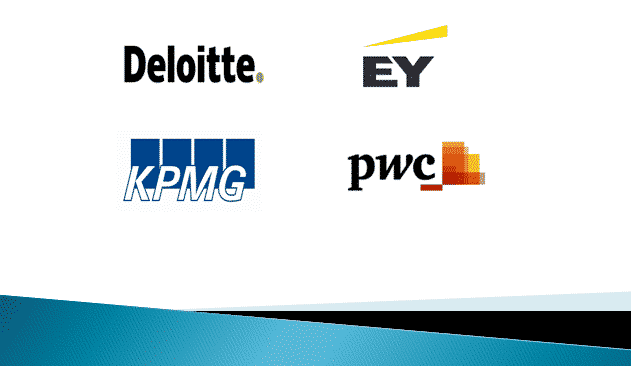 Deloitte
History
The firm was founded by William Welch Deloitte in London in 1845 and broaden into the United States in 1890. It united with Haskins & Sells to form Deloitte Haskins & Sells in 1972 and with Touche Ross in the United States to form Deloitte & Touche in 1989. The global firm was renamed Deloitte Touche Tohmatsu in 1993, later abbreviated to Deloitte.
Revenue
With over 160 years of commitment and hard work to make a substantial difference, the Deloitte organization has grown in scale and diversity approximately 312,000 employees in 150 countries, providing audit and enterprise risk, tax, legal, financial advisory, and consulting services. The accounting figures for Deloitte in 2020 are US$47.6 billion which is the highest amount for all big 4 consulting firms.
Vision
Deloitte's vision is to strive to be the quality of Excellence, the first choice of the foremost sought-after clients, and talent and their purpose to make an impact that matters.
Services
The service areas offered by Deloitte include Audit and Enterprise Risk, Consulting, Financial Advisory, Legal, and Tax.
Ernst and Young (EY)
History
In 1989, EY was founded in England through the merger of Ernst & Whinney and Arthur Young & Co. The company was then called Ernst & Young. Ernst & Young retransform themselves to EY in 2013 and their headquarter is located in London.
Revenue
Today the company has operations in over 150 countries all over the world with approximately 298,000 employees. The accounting figures for EY in 2020 are US$37.2billion.
Vision
EY aspires to people who demonstrate integrity, respect, and teaming. People with enthusiasm, eagerness, and the strength to lead and people who build relationships based on doing the right thing. These are EY's values and define who they are, and are the fundamental beliefs of their global organization. EY's purpose is to "Build a better working world" through their global awards program, Better begins with you". It enables EY's people to recognize and celebrate individuals and teams within their organization who consistently live the EY values. Also bring their purpose of building a better working world to life through their everyday behavior, which in turn makes an impact on EY's clients, people, and communities.
Services
The primary service offered by EY includes Assurance, Tax, and Law, Consulting (formerly Advisory), Transaction Advisory Services (TAS).
KPMG
History
In 1987, KPMG was established with the merger of Peat Marwick International (PMI) and Klynveld Main Goerdeler (KMG) and their individual segment companies. KPMG's history, however, extends over three centuries, where the organization can be traced back to the names of the most important founders whose initials form the KPMG name: William Barclay Peat, James Marwick, Piet Klynveld, Reinhard Goerdeler.
Revenue
KPMG is a network in more than 147 countries, with over 220,300
employees and has majorly in services: Audit and Assurance, Financial audit, Tax, Advisory. The accounting figures for KPMG in 2020 are US$29.7billion.
Vision
KPMG's vision is to be a clear possibility for their employees, clients, and the public, through knowing how to balance global strength and consistency with local relationships.
Services
The services offered by KPMG include Audit and Assurance, Tax and Legal, advisory, accounting, and financial services.
PricewaterhouseCoopers (PWC)
History
PricewaterhouseCoopers (PwC) was established with the merger of Price Waterhouse and Coopers & Lybrand in 1998. The history of Price Waterhouse traces back to 1849, established by Samuel Lowell Price, and Coopers & Lybrand's history goes back to 1854 when William Cooper established the firm. PwC's global headquarter is located in London.
Revenue
PWC operates in 157 countries with approximately 276,000 employees all across the globe. The accounting figures for PWC in 2020 are US$43.1billion.
Vision
PwC's vision is to be the leading consulting firm in the world. The vision requires quality in the services they provide and that quality is part of PwC's strategic goal on their way of being acknowledged as leading on quality and effectiveness.
Services
PwC delivers services through mainly 3 service lines: Assurance, Consulting/Advisory, and Tax & Legal.