Isn't it surprising that the number of smartphone users across the globe will reach 3.81 billion by end of 2021 [Source: Statista]. This is more than the combined population of the world's three most populous countries. And why are we talking about smartphone users here? Well, it gives a hint on how someone with a great smartphone app idea can tap the potential of this usage. But, the cutthroat competition can be demotivating for many.
Solution: Focus on essential factors that help you stand out among the crowd. In the subsequent sections, we are gonna tell you how.
Factors of Mobile App Development Services
For developing a smartphone app keep below factors in mind:
Start with Why
It's also the title of a bestselling book by Simon Sinek. The gist of this book should be the starting point of your app development process: what am I trying to achieve through my product? For some, it is a chance to express an idea that was lying dormant in some corner of their minds. For others, it could be an opportunity to give a positive twist to the way we lead our lives.
Confused? These examples will help you out.
Google Maps has revolutionized the way we commute through highly accurate navigation system. Evernote became every individual's personal assistant. My Fitness Pal (MFP) turned a lot of us into fitness freaks.
What is the selling point of your app?
Is it going to make the world a better place? Don't worry, it doesn't have to be something out of the world. Even if your app is an upgrade to an already existing concept, the chances of getting a success are high. Just don't fall prey to easy way of imitating what's already popular.
Analyze your users
Thinking about the end users is quite like writing a character for a novel or a movie. You need to understand the likes, dislikes, problems, opportunities, etc. Having a set of these characteristics makes the next steps look like a piece of cake. A persona of your end users gives you a template that needs to be filled with the right set of design and technology.
Decide the platform (iOS or Android)
Choosing between an app for Android or Apple devices is never easy. Why are we even deciding the platform in the first place? It's because the code for native app doesn't work on both. Simply put, you need to create the app for each platform from scratch. Ask for discount from your app builder if there is no alternative. Else, think of how you are going to earn money through your product. The Apple users usually get ready to pay for premium services available in their smart devices. Android users, conversely, look for free options. Those who plan to earn through advertisements prefer the latter option.
Make it simple to use
Every user is looking to ease up his/her life through your smartphone app. As a part of mobile app development, you must give them what they want: a well-designed user interface. Let's take the example of Apple devices, they are known for their simplicity. Well, this doesn't mean that they lag behind in terms of safety or features. In fact, they are much ahead of other players in many aspects. It's just that they don't want users to face trouble while using their products. Follow the same approach when thinking of user interface (UI).
Process of Mobile App Development Services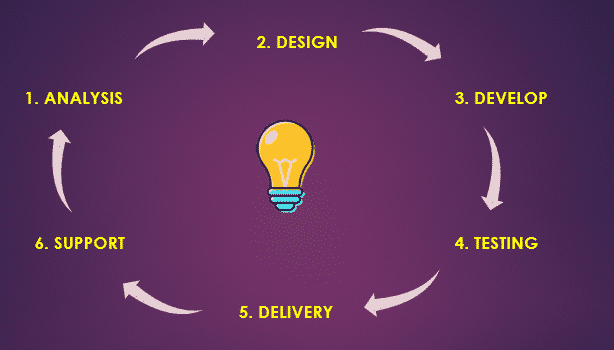 The Bottom Line for Mobile App Development:
Keeping all these factors in mind will surely help you in creating a more robust and effective application. Having a mobile app expert by your side will further improve the chances of success. Who knows, you might create something that becomes an inspiration for budding developers.