Ecommerce website Myntra has changed its brand logo recently. A Mumbai-based activist filed a complaint claiming that the company's logo was outrageous and assaulting women.
Naaz Ekta, the founder of NGO Avesta Foundation, had affirmed that the old logo resembled a woman's leg. A complaint had recorded in December last year compelling the removal of the logo. Before her complaint, Naaz has discussed her interest in online forums and social networking websites.
Following her complaint, the Mumbai police cybercrime department had notified the Flipkart-owned e-commerce company about the complaint.
The Mumbai Police's DCP has reportedly acknowledged the logo was indeed offensive in nature for women. Myntra informed Mumbai police that the company has decided to change the logo with a tweak in color.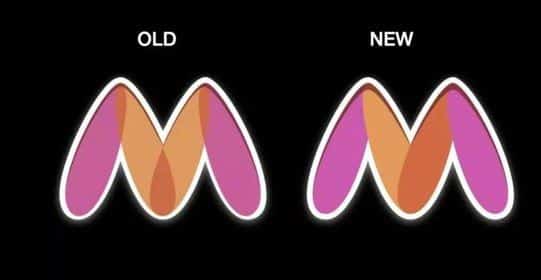 Conclusion
The company sought a month's time for the changes to be effective. The process is already underway with Myntra Logo replacing the old signage on all platforms, including the website and application.
Myntra has reportedly issued printing orders for packaging material with its new logo. The incident has led to a debate on social media with a discussion around the 'Myntra logo'.
"If you have a dirty mind you could find anything sexual". However, I don't think this particular case isn't without at least some merit.
Once I realized that it resembles a woman whose legs spread opened, I can't help but see it any other way. If no one had explicitly told me about the resemblance I wouldn't have found it.

The woman who had filed the complaint against Myntra had not done it someone else would have. Myntra lose a lot of money if it gets associated with negative things in consumers' minds. That is why Myntra quickly swung into action and redesigned the symbol.
The lesson for Myntra and companies is to never underestimate the prudishness of Indian customers and also have a process to make sure their logos are screened before they are used.