As for the future and based on the fundamentals of digital marketing, we can expect to see continued growth in the variety of channels available to consumers. It doesn't matter who you are marketing to – businesses or consumers. Today's buyers are communicating with your brand across multiple channels and devices. In addition, they have more expectations than any other buyer generation compared to the past. Modern buyers desire personalized emails, one-on-one conversations with brands at the right place and at the right time.
"Digital is at the core of everything in marketing today—it has evolved from 'One of the things marketing does' to 'THE thing that marketing does.'"
What is Digital Marketing?
Digital advertising is the strategy of leveraging the internet and its properties to deliver promotional ads to consumers on various digital channels such as search engines, websites, social media, email, and mobile apps. Let's clear the fundamentals of Digital marketing.
Why is Digital Marketing Important?
Digital marketing creates powerful opportunities to tell brand stories at scale and in context. Through ads on various devices and channels, marketers can target larger audiences in a way that is real-time and growing personal.
Buyers are more active on Digital Channels
Marketers have greater targeting capabilities
Availability of Customer intent data enables personalization and Seamless conversations.
Types of Digital Marketing
Search Engine Optimization (SEO)
It's a process to optimize your website and rank higher in various search engines such as Google search, Bing search, etc. Optimizing the site based on effective keyword research will place your site at the top of the search engine results in massive organic traffic growth.
How you can create backlinks? If you're at the beginning stage of building your website, here are 4 strategies you can use to score backlinks.
Guest Posting
Building your personal brand is vital to your blog's growth. And guest blogging on authority websites in your niche is a great way to build your brand image.

Guestographic Method
As you start guest posting, you'll note that many blogs only allow author bio no-follow links that don't carry any linked material. This is where infographics can help you. You can use them to build contextually relevant backlinks from the article's body.

Skyscraper Technique
It is an extremely effective strategy. Even before you start creating your resource, it's guaranteed to generate interest from your audience and other webmasters.
– Reverse engineering a linkable asset in your industry using Ahrefs.
– Building even more insightful, valuable and superior-designed pieces of content.
– Interacting with website owners to connect to the original linkable asset. You can also reach out to content writers in your niche who do weekly roundups and best-of posts.

Internal Linking
Deep linking to your authoritative content from relevant blog posts helps your website's overall SEO. Internal links also aid the website's navigation and enhance its scalability.
Social Media Marketing (SMM

)

Increasing social shares don't guarantee higher search rankings. However, social media is a great channel for getting exposure to your content and enhance your perceived value.

Social Media Marketing also helps search engines to build trust with more data points about your brand.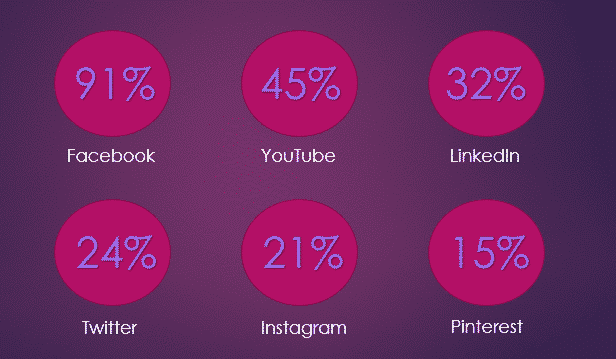 With more brand visibility, you can grow your domain authority and obtain rankings without backlinks.
Besides the big social media platforms, you can also try social bookmarking websites like Reddit.
Content Marketing
A lot of publishers these days have editorial calendars. This means they
already have a bunch of content topics lined up to be created or published for the next few weeks. Suggesting content elements (such as data, visual content, research, or interviews) relevant to any of their upcoming content could potentially lead them to mention/linking to you as a resource.
It's better to start prospecting who write top blogs in your space or niche that publish content regularly (twice or even more per week).
Contact writers from these publications, if possible since they are the ones who do the research.
Pay Per Click (PPC)
Pay Per Click (PPC) marketing is a type of online processing in which advertisers accrue costs when visitors click their ads. Advertisers bid on the recognized value of a click in relation to the keywords, platforms, and audience type in which it originates.
PPC is used for all types of campaign goals including growing sales, increasing leads, and promoting brand awareness.
Creation of compelling advertisements that will attract, engage and build a reputation with your future prospects or audience.
Affiliate Marketing
Affiliate marketing is a type of target-based marketing in which a brand or business rewards the affiliates a commission for each visitor or customer who bought the product or service by the affiliate's site or link.
It's essential to choose a niche that's both profitable and interests you. In the case of any niche sites, this entirely depends upon whether you hire the writers or write content on your own or both.
While choosing a niche, you need to ensure that the niche satisfies the below
criteria:
Low competition
Good commission rate
Products selling at a good price
Email Marketing
Email marketing is the process of interacting with a commercial message to a group of people using email. Some tips & techniques are mentioned below:
Mention customer's name or their website's name on the subject line to improve open rates.
Show your personality on your outreach emails and customize your
templates to reflect your personality.
The subject should be able to summarize what your email is about.
Build rapport with your prospects especially people on your priority list through other channels such as social media, community sites where they are active, or leaving comments on their blogs before reaching out through email.
If your offer/pitch is time-sensitive, let them know that it's urgent (from the subject line).
Send a follow-up email after 2-3 days if you haven't received any response.
We hope the fundamentals of Digital marketing would be clear to you and all the above mentioned techniques helped you in growing your brand or business.